Configure grounds
From PARS
Jump to navigation
Jump to search
|
Permissions required
to access this module:
Section:
Behaviour
Permission(s):
Access ___ behaviour incidents
Configure behaviour schemes
When recording behaviour, the "Grounds" are what the pupil(s) have done. Add grounds to be selected from a dropdown list when behaviour incidents are recorded. You can perform an analysis of the grounds used with Behaviour reports or Custom behaviour reports. Grounds can also be categorised for ease of selection.


This page is accessed via:
PARS main menu > Behaviour > Configure > Configure grounds


The configure grounds page
Adding and editing grounds
To create a new ground, click the "Add" button from the top toolbar. Alternatively, you can edit an existing ground by first selecting the ground and then clicking the "Edit" button from the top toolbar.


Don't show as faded icon on registers
If this option is ticked, then a faded icon will not show in registers for the rest of the day after the incident is recorded. There will still be an icon in the register during the period that the behaviour is recorded - if you want to turn this icon off too, see the section below on hiding grounds.

Requires a comment to be entered
This will force users to enter an outcome comment whenever they record an incident using this ground. This can be onerous for staff, and should only be used where necessary.


Deleting and hiding grounds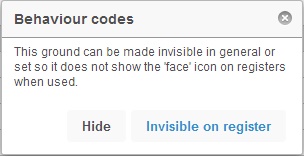 If a ground has never been used you can delete it by selected the ground and then clicking the "Delete" button from the top toolbar.
If you try to delete a ground that has been used, PARS will tell you "You cannot delete this event, as it is in use in X incident(s)."


If this is the case you might want to disable the ground so that it cannot be used again. To do this, select the ground and then click the "Toggle visible state" button. This will open a window with 2 options:


Hide
This will disable the ground so that it cannot be used, until it re-enabled using this button. Grounds that have been disabled will show a padlock icon.
Invisible on register
This will stop a face icon appearing in the register when the behaviour incident is issued, as well as stopping the faded icon appearing in registers throughout the day. This setting is commonly used for sensitive behaviour issues, such as bullying. Grounds that do not show symbols in registers will display a face icon.
When a ground has been hidden, you can click the "Toggle Hidden" button on the top toolbar to hide it from this screen as well.


Restrict usage
Like many things in PARS, grounds can be restricted so that only certain staff may use them. To do this, select the ground that you want to restrict, then click the "Restrict usage" button from the top toolbar. This will open a window where you can choose which staff members are allowed to use this ground. You can also select staff groups, which can be configured via group manager.


Default outcomes
You may configure PARS so that when certain grounds are selected, a specific outcome is automatically selected as a result. To do this, select the ground and then click the "Default outcome" button from the top toolbar.


If teachers have the following permission given to them, they will be able to change the outcome at their own discretion:
Allows the user to change the outcome where a ground is linked to a default outcome.


Otherwise staff will not be able to change the outcome whenever they select a ground that has a default outcome. This can be useful for consistency - you might want any zero tolerance grounds, such as bullying, to automatically result in an outcome of "refer to hoy" (which in itself might automatically trigger a behaviour referral to the appropriate Head of Year, meaning HoYs will be notified of all zero tolerance incidents).


Assign SMS
You can assign an SMS message to certain grounds. This means that whenever an incident is recorded using this ground, any behaviour referrals sent via SMS will always use this message.

To assign an SMS to a ground, select the ground and then click the "Assign SMS" button. A window will open showing you the SMS messages that have been configured in the message bank.


The messages that are available cannot be set up on this screen, and should be set up using the message bank instead.
However when creating SMS messages that are to be used for behaviour incidents, there are extra mail merge fields available. If you want to use these, you will need to type them into the message bank manually.


| Merge Field | Effect |
| --- | --- |
| {GROUNDS} | This will display the ground used when recording the behaviour incident |
| {GROUNDSCOMMENT} | This will display any grounds comments that were entered when recording the behaviour incident |
| {OUTCOME} | This will display the outcome used when recording the behaviour incident |
| {OUTCOMECOMMENT} | This will display any outcome comments that were entered when recording the behaviour incident |
Grounds that have an SMS assigned to them will display this icon: