Licence details
Jump to navigation
Jump to search
The licence details page will show the details of your licence, according to your installation of Insight. Insight needs to communicate with the TASC Software servers in order to receive any updates to your licence, such as an extension. Insight will not be able to communication with the TASC Software servers if the details in the proxy section of preferences are incorrect.


If you think that the details shown on the licence page are incorrect, first try clicking the Refresh link. If you still think the details are incorrect, check that your proxy details are correct then return to this page and click Refresh again. If the licence details still appear to be incorrect then you should contact the support team.


The licence details page will show a list of all the available additional modules. You will have a tick next to each of the modules you are licensed to use.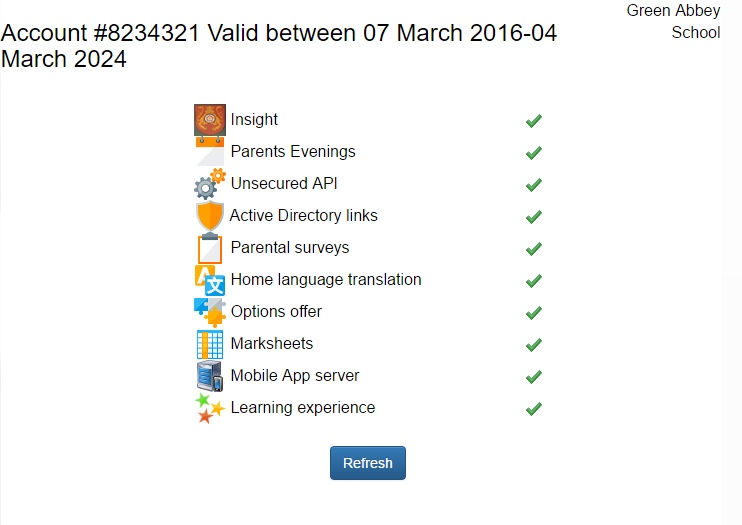 The licence agreement
1. Program and Licence
(i) The 'Program' means the licensed software programs as included in this pack.
(ii) This licence grants non-exclusive non-transferable licence to the school, college, or other organisation identified above (the Licensee) to install and use the Program on any number of personal computers (or local area networks) for a period of one year. The Licence does not extend to other related or unrelated organisations other than the licensee. No more than one copy of the Program in any computer readable format may be made by the Licensee for back-up purposes, such back-up copy to bear the proprietary notice of TASC Software Solutions Ltd, to be used only by the Licensee in the event that the Program delivered to the Licensee has been lost, destroyed or damaged. The Program and all copyright design right and any other proprietary or intellectual property rights in the source and object codes of this Program vest exclusively with TASC Software Solutions Ltd. TASC Software Solutions Ltd reserve the right to grant licences or install or otherwise exploit the Program to any other person or body.
(iii) The Program may not be copied without the express consent in writing of TASC Software Solutions Ltd which reserves absolute discretion to withhold such consent. In particular, but without prejudice to the generality of the foregoing, the Program shall not be installed onto any network or onto any additional personal computer including any lap-top or portable computer which is not owned by the Licensee. An additional user licence may be requested at separate cost from TASC Software Solutions Ltd if such usage is required, such additional user licences to be granted at the sole and absolute discretion of TASC Software Solutions Ltd.
(iv) Not withstanding item 1(iii) above, gratis authorisation will not be unreasonably withheld where a copy is required to be loaded onto a personal computer for user training use only. However written permission must first be obtained from TASC Software Solutions Ltd.
(v) This licence is personal to the licensee. The Licensee may not transfer or part with possession of the programs or seek to sub-licence or assign the licensee rights under it. The Licensee must not modify or merge, reverse engineer or de-compile the program. The Licensee must not copy the Program except as expressly provided in (ii) above. Any breach of this sub-clause (v) will automatically terminate the licence.
(vi) TASC Software Solutions Ltd does not warrant or guarantee that the Program performs any particular function or operation which may be suitable for your requirements, other than may be disclosed in relevant documentation published by TASC Software Solutions Ltd.


2. Termination
(i) TASC Software Solutions Ltd may at any time and at its sole and absolute discretion terminate the licence, in which event TASC Software Solutions Ltd shall refund to you the cost of the Program if full payment has been made and all Licence conditions have been complied with.
(ii) This licence may be terminated by TASC Software Solutions Ltd without refund if you fail to make payment 14 days from the date on which any sums due by the Licensee under this Licence become due.
(iii) Within 14 days of termination of this Licence, you will return to TASC Software Solutions Ltd any back-up copies or additional copies made, and all parts included with it, or a letter attesting to the destruction of the original and any copies by the Licensee. You may terminate this Licence at any time by returning all copies or furnishing such confirmation.


3. Disclaimer of warranty
(i) TASC Software Solutions Ltd makes no warranties with respect to the Program. Having delivered the Program, we will provide during business hours telephone technical advice assistance and support free of charge. Such support will be continued while the licence is in effect. In the event of any errors in the program, TASC Software Solutions Ltd may at its sole and absolute discretion correct the same by issuing 'patches' or by releasing new versions. In the event of any defect which TASC Software Solutions Ltd are unable to rectify and provided the Licensee notifies TASC Software Solutions Ltd of such defect within 10 days of the date of the delivery invoice, this Licence shall be terminated and a full refund of all money paid by the Licensee to TASC Software Solutions Ltd will be made. TASC Software Solutions Ltd does not guarantee you uninterrupted or error free service.
(ii) The above warranty excludes defects caused by accidents, abuse, incorrect installation, poor storage or handling or any act referred to in sub-clause 1(v) above.
(iii) TASC Software Solutions Ltd reserves the right to withhold support where programs have been modified or merged in any way.


4. Limitations of liability
(i) Except as provided above, or as expressed by statute to be incapable of exclusion or limitations, no other representations, warranties, conditions and guarantees, express or implied, including but not limited to the implied warranties of fitness for purpose and satisfactory quality, are made with respect to the Program by TASC Software Solutions Ltd.
(ii) TASC Software Solutions Ltd shall not be liable for any direct, indirect or consequential loss, damage or expense (including but not limited to loss of data or use) suffered or arising in any manner whatsoever out of or in connection with the use of this program.
(iii) In no event shall the total liability of TASC Software Solutions Ltd (however arising) under this licence exceed the amount paid by the Licensee for the Program.


5. Sensitive Data
(i) It is expected that the Program will operate on data deemed to be sensitive personal data within the meaning of the Data Protection Act 1998 (the Data).
(ii) Data is not moved to a separate database, and for the avoidance of doubt TASC Software Solutions Ltd do not have access to the Data.
(iii) The Licensee must satisfy itself that it complies with all applicable laws regulations and rules as will allow the use of the Program with the Data and that it has all appropriate protections employing industry best practice in place to protect the Data from unauthorised access destruction or loss and that such compliances and protections are regularly maintained reviewed and upgraded. Protections should include but not be limited to regular operating system updates, firewall hardware or software, regular backups, anti-virus software and network vulnerability checks. Nothing in this document constitutes advice and if the Licensee is unsure about any compliance or protection issues the Licensee should consult with and seek advice from specialists.


6. General
(i) This Licence does not affect or prejudice your statutory rights nor seek to limit or restrict TASC Software Solutions Ltd's liability in negligence for death or personal injury. If any of the above provisions or portions thereof are invalid or unenforceable by any judicial or statutory authority, this shall not nullify the remaining provisions of this Licence which shall remain in full force and effect.
(ii) Any re-seller, distributor or dealer from whom you purchased the Program is not appointed by or authorised by TASC Software Solutions Ltd as its servant or agent. Such persons have no authority (either express or implied) to enter into a contract or grant any licensee or provide representation, warranty, condition or guarantee with or to you on behalf of TASC Software Solutions Ltd, or therefore bind TASC Software Solutions Ltd. TASC Software Solutions Ltd cannot be held responsible for any modifications or mergers made to the Program by such persons.
(iii) Failure by TASC Software Solutions Ltd to enforce any of the terms and conditions of this agreement shall not be construed as a waiver of its rights. TASC Software Solutions Ltd shall not be under liability to you in respect of any circumstance beyond its reasonable control.
(iv) This Licence constitutes the entire agreement between the parties relating to the Program and its licensing, and shall be governed and construed in accordance with the laws of England and any dispute under this Agreement or the Program shall be submitted to the exclusive jurisdiction of the English Courts, save where TASC Software Solutions Ltd otherwise agrees. No variation, amendment of or addition to this Licence shall be effective unless TASC Software Solutions Ltd prior agreement in writing shall have been obtained. In the event that any provision of these Conditions are held to be void or unenforceable, that shall not affect the remaining provisions which shall remain in full force and effect.