Pupil scan
From PARS
Jump to navigation
Jump to search
|
Permissions required
to access this module:
Section:
Biometrics
Permission(s):
User can add people to a biometric datastore and link them to PARS
User can access the biometric lesson
Biometric systems can be used in conjunction with PARS. Pupils can:
Sign in / Sign out
Mark themselves present (or late) to AM and PM sessions
Mark themselves present (or late) to lessons


To discuss using a Biometrics system in school or to enquire about modifying an existing system, please contact support@tascsoftware.co.uk


The pupil scan database is used in conjunction with signing in systems, biometrics and other systems that record pupils' attendance. It is a behind-the-scenes features that must be working if you want pupils to sign or swipe themselves into school or lessons.


Once the pupil scan database has been created and configured, the automation module will periodically check to see if any marks need to be updated, and update them where necessary.


This page is accessed via:
PARS main menu > System management > Pupil scan


Database
If you can see the text "No Pupil Scan database currently exists" then you need to create a database - to do this click the "Create" button at the top-left. Once done, the database tab will show you the details of your Pupil scan database.


Preferences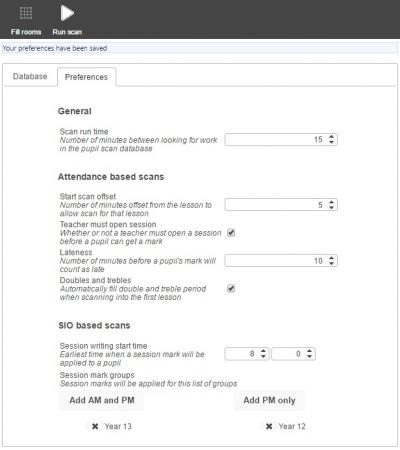 The preferences tab allows you to configure the options for the pupil scan database.


Scan run time
This is how often (in minutes) the automation module will check to see if there are any attendance marks that need to be updated because of pupils signing in or out, swiping their swipecards, etc.


Start scan offset
The number of minutes before a register begins that pupils can start signing in. This helps the teacher get the lesson underway as quickly as possible. For AM sessions, this is the number of minutes before the earliest time, specified below.


Teacher must open session
If this is ticked then the teacher must sign in/swipe before any pupils do or the pupils' marks will not be recorded. If this is not ticked, then the teacher will need to swipe/sign in at some point during the lesson for the pupils' marks to be recorded. This only applies to lesson registration, not when pupils are signing in for their AM or PM mark.


Lateness
How many minutes late a pupil may be before they are given a late code.


Doubles and trebles
If this is ticked then pupils will only need to swipe/sign in once at the start of a double or triple lesson, and they will get all of their marks. Otherwise they will need to swipe/sign in at the beginning of every period. This does not apply to AM or PM marks.


Session writing time
If pupils are allowed to sign themselves into the AM session, then what it the earliest time (hh:mm) that they can sign in? This does not apply to timetabled lessons.


Session mark groups
Add any groups that allowed to sign themselves in for either the AM and PM sessions, or the PM session only. Click the "Add" button to add groups that are allowed to sign in to the relevant sessions. Only groups added here will be able to swipe in for their attendance marks. This does not apply to timetabled lessons.


Run scan
The automation module will automatically scan the Pupil scan database to update attendance marks and pupil's sign in status. However you can also do this by hand. Click the "Run scan" button from the top toolbar to manually run a scan - a window will show you what was found by the scan, and if any work was done.


Fill rooms
This job is automatically done when you create a database (see above). However if you have had a change of rooms at the school or made changes to your SIMS database, you may need to re-do this. Click the "Fill rooms" button to update the Pupil scan database with your rooms.


Additional Information
For pupils to register themselves to a lesson, the teacher of the lesson will first need to swipe/scan themselves into that room. That will open the room for the pupils to be able to swipe/scan themselves in.


Staff can also triple swipe/scan to fully open the scanner/reader for the current period. This means any pupil who scans or swipes into that device will be marked into their lesson, regardless of where the lesson is supposed to be taking place and who is supposed to be teaching it.


If a student has no lesson in the period after their session mark (e.g. a student has no lesson in period 1, which is the period immediately after the AM session) then the start time of that lesson will be used to determine lateness.