Applying the academic timetable
From PARS
If lesson periods are not showing in PARS then usually this means that the timetable has not been applied in SIMS .net. This job needs to be done at least once at the start of the school year and then again if any changes are made to the timetable in Nova-T/SIMS.
To check if the timetable needs to be applied, open a teacher's timetable in SIMS .net. There is an option to toggle between "Timetable cycle" and "Current week":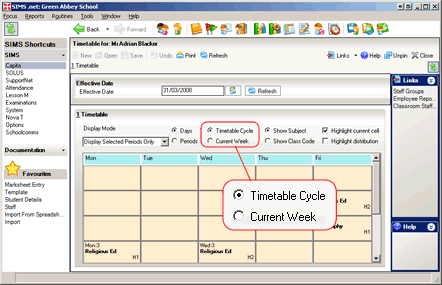 If this week is a school week and "Timtable cycle" is blank then the timetable has not been imported from Nova-T into SIMS (see your Nova-T documentation to find out how to do this). If the "Timetable cycle" is correct but the "Current week" view is blank then the timetable needs to be applied.
To apply the school timetable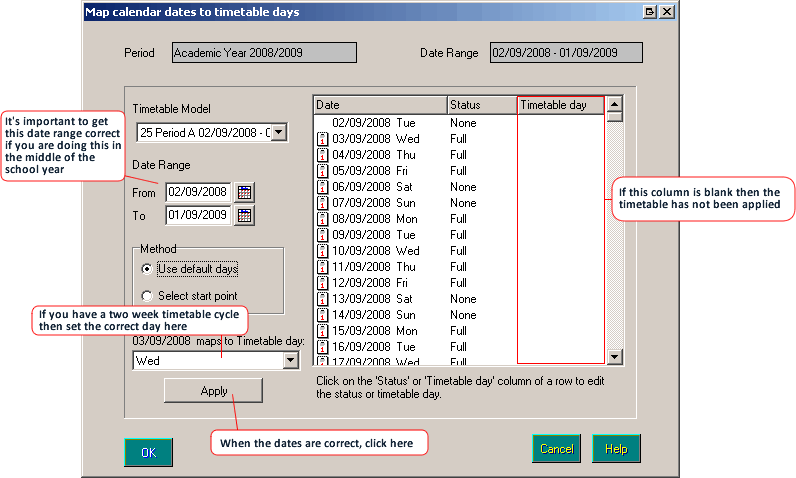 N.B. Every time you apply the timetable it creates a blank new set of lesson registers, any existing lesson attendance marks in the time period are deleted, please do a backup before trying this.
Either:
Open the SIMS .net Attendance module.
Select Tools -> Attendance years.
Make sure the "Using: Academic year 20xx-20xx" drop-down box is set to the correct academic year.
Click "Apply timetable to Academic Year"
Or:
From the main page of SIMS .net select Tools -> Academic Management -> Apply Timetable.
By this point you should see a window similar to the one pictured on the right.
Select the correct Timetable Model and date range. All existing lesson attendance marks in this period will be deleted.
If you have a two week timetable cycle, use the drop-down at the bottom left of the screen with "dd/mm/yyyy maps to timetable day:" to choose the correct week (first or second) for this date.
Click "Apply" then "Save" to finish the process. Reload PARS and the timetable should now be visible.