Main Page
From CuraWiki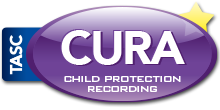 Welcome to the Cura Wiki!
Training Guides
New Features
TASC Software continue to update Cura listening to schools, taking into consideration their individual needs as well as sharing good practice. If you have a problem to solve concerning child protection / pupil safety and you would like a new feature in Cura to save you time then please let us know.
Click here for more new features.


Help and Support
Should you need any further help, the TASC Software online helpdesk is available during normal office hours (Mon - Thu, 9am - 5pm; Fri, 9am - 4.30pm) where our team will be glad to assist you. Telephone support is available on 01902 824281 or you can fax us on 01902 824283.
You can also access our online helpdesk via www.tascsoftware.co.uk. You will need an account to log in to the helpdesk - if you don't already have one, you can contact us at support@tascsoftware.co.uk and we'll create an account for you, or call us using the number above. Please note that support queries via email should be sent through the helpdesk, not emailed directly.