Home page
Jump to navigation
Jump to search
This is homepage for Cura and the main screen when you log in (unless you are logging in using an admin account or your account is set to see the simplified view).



This is the homepage for the simplified view, displaying basic information about the students.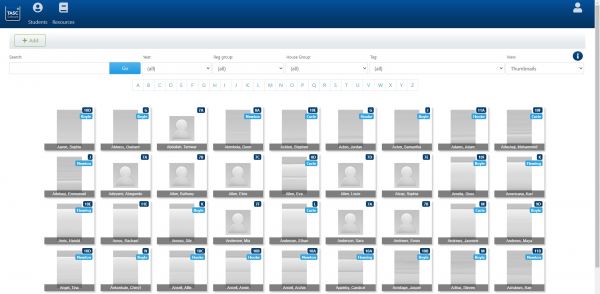 If you would like to at any point return back to these home pages, simply click the Cura button at the top left of the page.

Alerts
You will see a link for "affinities" at the top of page. This is used to configure your Affinities with pupils.


If you have an affinity with a pupil (which means you have been linked to the pupil, click the Affinities link for more information) then this page will show you any new pieces of information recorded about that pupil. You will only be able to view the details of a piece of information if you have a high enough clearance level.


You can see under the student's name the information that has been recorded about them, to the right hand side of the name a number will inform you of the amount of incidences currently recorded. This will show you a list of information that you have not yet viewed by the user. Hovering your mouse over any of the rows will give more information:


If the background colour is grey, then you do not have high enough clearance level to view the details of this information and a red stop sign () will appear as a mouse pointer, prohibiting you from viewing the information
If the background colour is white, then you are allowed to view this information and action has been taken and recorded in response to it
If the background colour is yellow, then you are allowed to view this information and no action has been taken in response to it


If you have a high enough clearance level to view the information, then you can click to open the incident. Once you have opened an incident, you can view more details, or schedule and record actions that you are going to take in response to the incident. For further details please see the Reviewing information.


Reviews
The reviews tab will show you any pieces of information which need to be reviewed and could be reviewed by you. Therefore if an incident has already been dealt with, it will not appear on this page. You will not see any incidents that are above your clearance level or outside of your severity band.


If there are any pieces of information that need to be reviewed, then the pupil(s) who the information relates to will appear on this page. You can click on a pupil's name to open the students file. You can click on any of the pieces of information to view more details or record and schedule actions that you are going to take in response to the information (reviewing information).


Planned
The Planned Actions tab will show all of your planned actions regardless if completed or outstanding. You can schedule/plan actions when reviewing a piece of information regarding a pupil. For more information, see reviewing information.


You can click the "Historic unresolved planned actions" or "Future unresolved planned actions" buttons at the top of the page to see a list of all relevant actions, which have not yet been dealt with.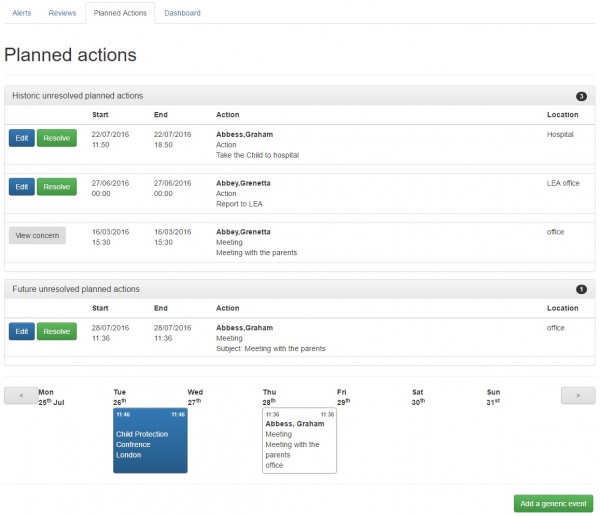 Clicking on any of the actions will provide the following options:
Edit (blue button) - This allows you to edit the scheduled action including time and date
Resolve (green button) - This opens the planned action for you to complete and enter the details
View concern (grey button) - Allows the user to view a planned action that has been completed previously (the entry is non-editable)


You will see a current week calendar view and if you have any scheduled actions, then they will appear on the calendar. Actions that have been dealt with will appear in grey lettering, and actions that are still outstanding will appear in black lettering. If you click on an unresolved meeting, a window will open showing you the details. You can click the "Resolve" button to record the details of that action in Cura.


Generic planned action
You can also add a generic planned action outside of a student concern, e.g. if you have a child protection conference or training to attend to this can be used. This is not to be used for anything to do with student related concerns or follow ups.

To record the details of your scheduled action, just click the "Resolve" button. This will take you to the recording information page.
Dashboard
The Dashboard tab is an information management tool that is used to track incidences, areas of concern, and other key data areas relevant to the departments, or specific processes. Through the use of data visualisation (snapshots), the dashboard simplifies complex data to provide users with a glance and awareness of current issues. There are many areas that the dashboard looks at the main and always at the top: concerns this year.

All other areas are displayed and reviewed monthly and annually, concerns by:
Assessment framework
Classification
Sub-classification
Year group
Severity
Disability
English as an additional language (EAL)
Pupil premium
Ethnicity
Religion
LA care
Pregnancy
Gender
To filter information for specific requirements, simply deselect information below the chart and it will be tailored for you.
The charts can also be exported to a document and if required printed by selecting on the chart.