Difference between revisions of "Data Protection"
Jump to navigation
Jump to search
 

(9 intermediate revisions by the same user not shown)
Line 22:
Line 22:
 
 
 

[[Image:DataProtectionTab.jpg|400px]] <br> <br>

 

[[Image:DataProtectionTab.jpg|400px]] <br> <br>

 
+
 
+
 
+
 
+
 
+
 
+
 
+
 
+
 
+
 
+
---
Latest revision as of 11:44, 10 August 2017
The purpose for the Data Controller is to confirm that the Data Protection Act is being complied and adhered to, for the system and its users.

Installing New Update
Once the new update has been installed by your IT Department Cura version 1.202, users will not be able to access the system and will receive a message on the screen requesting them to contact the System Administrator.

System Administrator
The System Administrator will need to log in with the Administrator account details to confirm who the Data Controller will be, this is an individual in school who has responsibility for Data Protection.

Assigning Data Controller Permission
The System Administrator must decide who the Data Controller is and provide the permission to them. This can be done by opening the relevant user and ticking the box Data Controller.
Data Controller
The Data Controller will log in their account details, they will be taken automatically to the Data Protection tab as all fields are required to be defined.
Data Protection
Under each item will be a list for the Data Controller to choose from, a minimum of one box must be ticked per item in order for Cura to function.
When all items are completed Cura will resume normal operation.
The Data Protection screen can also be printed should it be required to be displayed, this will include all the items in the list including the name and email address of the Data Controller for communication purposes.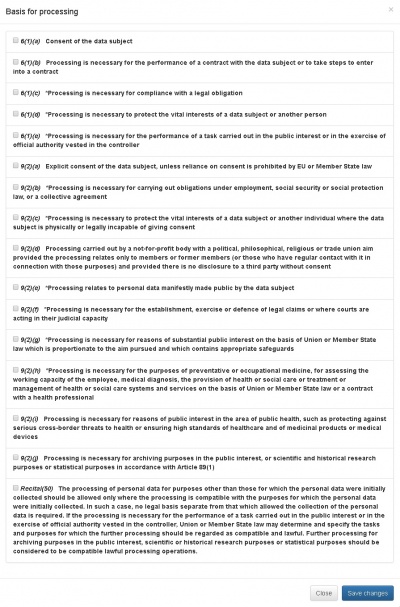 Configuration Tab
If any new items are created under the configuration tab such as a 'Personal Tag' then these must be authorised by the Data Controller under the Data Protection tab, then the items will be available to the users to select.